Introduction
Hello everyone and welcome to what is now my 11th post on my blog about opiate addiction. I would like to use this post to discuss something we so often take for granted; sleep. For someone who hasn't had a problem with opiate addiction and has no sleeping problems/conditions, sleep is often a natural occurrence that comes with relative ease. Sleep is what allows our mind and body to rest, heal, and rejuvenate itself and is something we all need in order to survive. Well for someone who suffers from opiate addiction, getting and staying asleep can be quite difficult. It is not uncommon for opiate addicts to have restless nights of sleeping, trouble going to sleep, or to have to wake up early as withdrawals begin to creep their way in. It gets even worse for opiate addicts when they decide to quit opiates cold turkey or to discontinue their use of opiates after tapering or treatment (Suboxone or Methadone). I've been there before and can vouch that it is one of the worst parts of opiate withdrawals. Therefore, I would like to dedicate this particular post to talk about sleep when the time comes for us to quit opiates.
If you are interested in reading other posts in my blog about opiate addiction, click on any of the following links (in order from 1st post to most latest post).
Welcome Post (1st Post)
My Experience With Suboxone
The Dreaded Withdrawals
Why We Got Addicted To Opiates
Suboxone Vs Methadone
The Vivitrol Shot
Addiction And Our Bodies
A Soldier's Addiction
Cold Turkey Or Opiate Replacement Therapy
Some Good Quotes About Opiate Addiction
When one stops using opiates, a variety of withdrawals will begin to come into play and can leave the person involved feeling like they are in a state of absolute hell. For this post, I will be referring to those who have either quit opiates cold turkey or who have stopped using all opiates after their tapering or treatment is completed. Basically, this post is for people who are no longer taking any forms of opiates (be it Oxycodone, Methadone, Suboxone, Morphine, ect...). When one quits opiates, they often have difficulty in getting and staying asleep due to a variety of factors. Restless legs (the withdrawal I hate the most), a racing mind, the chills, cold sweats, anxiety, and aches/pains are some of the more common withdrawals that affect our sleep patterns the most when going through withdrawals. I can remember a few times in which I attempted to quit opiates cold turkey and couldn't get more than a couple hours (if I was lucky) of sleep in a night. During the day, we are faced with withdrawals such as lack of energy, chills, cold sweats, diarrhea, and aches/pain. One basically feels like they have a really, really bad case of the flu. Come nighttime, our bodies are often tired and hurting after a long day (minutes seem like hours) of experiencing withdrawals, only to face even more agony at night. When the sun finally rises the next day, we have to experience this cycle all over again until withdrawals begin to calm after a period of time.
How many of us feel during Opiate Withdrawal at night.
I want this post to talk about a few things in regards to sleep and opiate withdrawal and I think the best way to do this is to break down this post into a few sections. I would like to touch upon the importance/role of sleep, the process of sleep for an opiate addict, and finally some methods that may help one get a good night's sleep (or at least a few hours) when experiencing opiate withdrawal. On that note, lets begin.
The Role & Importance of Sleep
Sleep is defined as a natural periodic state of rest for the mind and body, in which the eyes usually close and consciousness is completely or partially lost, so that there is a decrease in bodily movement and responsiveness to external stimuli (Free Dictionary by Farlex). Sleep is what allows our mind and body to have the opportunity to rest and perform several important tasks. Without sleep, one will not survive for very long and unhealthy sleeping patterns can result in both physical and mental health conditions. Sleep helps restore and strengthen our immune system, which is critical to our bodies as it helps heal or prevent wounds/injuries, infections, diseases, viruses, and much more. Sleep also aids in the brain and development of it. Despite there still being a lack of total understanding of the roles sleep has in living organisms, one thing is clear, sleep is essential for our survival.
The Sleeping Patterns of an Opiate Addict
As most of you probably know already, opiate addicts tend to live a life quite different from those who do not suffer from addiction. The old saying "don't judge a person until you walk a mile in their shoes" is perfect for this scenario. As I said before, for someone who doesn't suffer from opiate addiction and has no sleeping problems/conditions, sleep is something that comes natural and takes little challenge to accomplish. However, for someone who does suffer from addiction and is currently going through opiate withdrawal, sleep can seem almost impossible at times. The withdrawals from opiates affect not only our bodies, but our minds as well resulting in our bodies being somewhat different than that of your average Joe who isn't addicted to opiates. Now I'm certainly no doctor (I can't count how many times I've said that before) but I believe the reason an opiate addict's sleep patterns become so disturbed are a near direct result of the effects opiates have the brain. I know it isn't rocket science that the physical withdrawals can keep one awake but I also believe that the mental aspect of opiate withdrawal is far too often overlooked. My guess is that the opiates play some kind of role in messing around with our brain chemistry resulting in some kind of imbalance or in something up there being "off". I mentioned before in my previous posts about the effect opiate addiction can have on not only our bodies but our minds as well, if you wish to check that post out simply click
HERE
.
Having an addiction to opiates can have quite an impact on our brain receptors whose purpose is release endorphins. Endorphins are basically opioid peptides that function as neurotransmitters. In other words, Endorphins are released in the brain as result of doing something we enjoy or find pleasure in such as exercising, having sex, or spending time with someone who we enjoy being with. Unfortunately, these same endorphins can be created and released each time we use opiates which ultimately result in one's mind and body enjoying the presence of opiates in the body. By continuing to use opiates over a period of time, the brain will begin to crave the presence of these endorphins eventually resulting in the person feeling the constant need to please the brain with the use of opiates. This is why it can sometimes be difficult for former opiate addicts to find enjoyment in things they once enjoyed as well as also resulting in depression or anxiety among other things. After reading all that, you can probably imagine the true effect opiates have on the mind and body which are what can ultimately control your sleeping patterns.
Some Methods To Help With Sleep During Opiate Withdrawal
Getting some sleep during opiate withdrawal is something that nearly each and every one of us desires and wishes for when we choose to stop using opiates. Some people may be able to get some sleep during opiate withdrawals while others may feel as though they've been wide awake for what seems like a week straight. Like I always say, everyone is different. Some people experience certain withdrawals more or less than others and there is no universal law out there that will tell how good or bad your withdrawals will be. Unfortunately, there is no miracle drug or method out there that will prevent withdrawals but there are some methods that can help ease them. For this section of the post, I am going to talk about a few of these very methods which may help one who is suffering from opiate withdrawals and can't achieve sleep.
Over The Counter Medications- There are a few over the counter (OTC) medications out there that might be able to help you find sleep when going through opiate withdrawal. A common one is the drug Diphenhydramine, which is found in the OTC medication Benadryl. For some people this works great for in achieving sleep but for others (myself included) it has little to no effect. It is important to note that Benadryl when taken in high enough doses can result in restless legs and a jittery feeling similar to if one were take some caffeine. In even higher doses, Benadryl can result in hallucinations or even death so be smart when using this medication as a sleep aid. Basically, if you're not feeling much of an effect after taking the recommended dose, quit while you're ahead and don't look to take more in hopes of achieving sleep.
Another OTC medication that can be used to help with sleep is Doxylamine, which is most commonly found in the OTC drug Unisom. I have used Unisom and from my own personal experience feel that it works better than Benadryl. Tylenol PM is also another alternative to help with sleep as well as the aches/pain that often come with opiate withdrawals. Tylenol PM contains both Diphenydramine and Acetaminophen. The Diphenydramine in Tylenol PM is the same ingredient found in Benadryl and is what will help with the sleep. The Acetaminophen helps with aches, pains, and fever. All of these OTC medications should be used with caution as most are meant for short term use only. Ingesting to much of these medications can have severe consequences so be sure to be smart and talk with your doctor before doing anything drastic.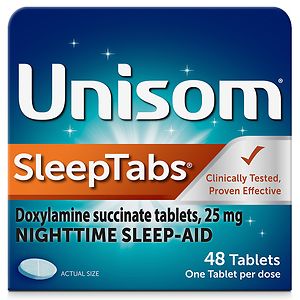 A final OTC medication that I feel is worth mentioning is Melatonin. Melatonin is a natural ingredient and works by replicating what the naturally occurring compound N-acetyl-5-methoxytryptamine does in our bodies. This compound is basically what aids our brain in determining when to sleep and has been getting more and more attention as of late. It is important to note that this medication takes time to work (usually at least a couple weeks) and that the dose needed to help aid with sleep varies from person to person. The good thing about Melatonin is that it is not addicting which is a huge plus for the addiction community. I gave Melatonin a shot before and didn't find it to help much with getting to sleep but I have seen other people praising how well it works. Like always, everyone is different so be sure to talk with your doctor if you do decide to give Melatonin (or any of these medications) a try.
Prescription Medications
- Prescription sleep aids are usually more powerful and effective in helping one achieve sleep but do come with their risks. Many of these medications can be habit forming and addictive so anyone who has suffered from addiction in the past should be cautious with these medications. I have given a few prescription medications a try before and to no surprise would have to agree that they are far more effective than OTC drugs. A common prescription sleep aid is the drug Zolpidem, which is found in the medication Ambien. Ambien is a pretty powerful medication that has a pretty high success rate in terms of achieving sleep. I have tried Ambien before and found that it works great for getting some sleep but eventually canceled my prescription to it as I felt there was to great of a chance I would develop an addiction to it. There are also some side effects with Ambien such as sleepwalking, nightmares, and hallucinations so once again be careful my friends with these medications.
The drug Eszopiclone is another option and can be found in the medication Lunesta. I have no experience with this drug but have been told it is similar to Ambien but slightly stronger. Lorazepam is a option as well that is found in the medication Ativan, which works by slowing activity in the brain to allow for relaxation. Ativan also helps with anxiety which is something that can certainly arise during opiate withdrawal. Clonazepam, found in Klonopin, is yet another option as a sleep remedy. This drug is commonly prescribed for seizures, anxiety, and insomnia and based on what I have heard is quite powerful. I have no experience with Ativan or Klonopin so be sure to do your research and talk with your doctor if you think either of these may be an option.
Benzodiazepines are a class of drugs that are commonly used to treat sleeping problems and conditions. These are usually the more powerful sleep aid medications but carry the risk of developing an addiction. Withdrawal from Benzodiazepines is said to be quite severe, long, and painful with many saying the withdrawals from Benzodiazepines are far more dangerous and worse than those of opiate withdrawals. Some examples of Benzodiazepines include Klonopin (see above), Estazolam (ProSom), Flurazepam (Dalmane), Quazepam (Doral), Temazepam (Restoril), and Triazolam (Halcion). If you feel these drugs are capable of causing you to develop an addiction to them, your best bet is to stay away from these medications and look elsewhere. Another option is to use these drugs short-term (under 2 weeks) to help with the early stages of opiate withdrawal. These are powerful drugs guys, so be sure to be safe and to use these only under your doctor's supervision.
Another medication that may help with finding sleep is the drug Trazodone. I have used Trazodone before in the past and found it to work pretty well. While the Trazodone did help me, it was no where near as effective or powerful as the Ambien. Trazodone isn't as addictive as Ambien or some of the other drugs mentioned but it can still be considered somewhat habit forming. One will most likely not get too many physical withdrawals when stopping Trazodone, there is the chance of having trouble getting to sleep, having nightmares, and a sense of restlessness if suddenly stopped. The dosages prescribed for Trazodone vary greatly (any where from 25 mg to as high as 600 mg) so you and your doctor may have to slowly work your way up to a dose that works well for you.
Natural Remedy's -
There are also other alternatives to sleep aid medications that can help during opiate withdrawal. One thing that works well for a lot of people is the use of hot baths, hot tubs, and trips to the sauna. These methods help relax the body and can be great for dealing with the chills and aches/pains. Exercising is another option but is something that can be quite difficult to do when going through withdrawals. When one exercises, their body releases endorphins just like how our bodies do when we use our drug of choice. Not only is exercise healthy for you, it will also often leave you feeling tired at the end of the day. Some decaffeinated tea, warm milk, or hot coco before bed can be soothing for some as well and is great for helping with the chills. Coffee isn't a bad idea during the day to get you up and going while withdrawing but should be avoided close to bedtime. The great thing about these methods are that they are not addicting or habit forming.
There are also several relaxation techniques that can be beneficial as well. When I first heard of these, I thought they were just a bunch of B.S. but must admit they did actually help a little after finally giving them a chance. Relaxation techniques include breathing exercises, mediating, and listening to those audio tapes that play peaceful sounds or music. Lets face it, when you're withdrawing you're basically willing to try anything to help yourself get through those rough times. I also find creating and sticking to a going to sleep and waking up schedule helps a lot to with sleep. What I mean by this is to not have nights were you're up until 3 A.M. and wake up the next day at 11 A.M. then following the previous day by going to bed early and waking up early. Make a schedule and stick to it.
A breathing exercise that I have found to help with not only getting to sleep but relaxing works by lowering your pulse and clearing your mind. For some people, this works well while others may not notice much of a difference. It takes a little practice to get used to as well. It can also help when you have a panic attack or are frustrated. This breathing exercise is called the 4-7-4 technique and works as follows:
Sit down in a chair with your back straight and hands together meeting at your stomach.
Your fingers should interlock at your stomach with the backside (opposite of your palm side) of your hands facing out.
Inhale and take a 4 second continuous breath of fresh air and hold it in for 7 seconds.
After holding your breath for 7 seconds, release your breath for 4 seconds continuously
Continue this 3-5 times
Another thing that may help is simply reading a book, surfing the web, or watching a little television before bed. It will help keep your mind busy while giving you some entertainment to pass the time and relax. However, don't just sit there for a few hours watching television, surfing the web, or playing video games as this can have the opposite effect. Try doing something that you really enjoy that doesn't take up a lot of your energy. Having a good environment around you before you go to sleep can make quite the difference so make sure you're in a relaxed, quiet, and comfortable environment each night.
Herbal Methods -
There are also some natural herbs out there that are said to help with sleep. While I have never tried any of these herbs, the ones I most commonly hear about are Valerian Root and St. John's Wort, which can usually be found at stores like GNC or Vitamin World. There are other herbal remedy's out there as well. I have also heard Lavender can help. Don't look at these herbs as something you shouldn't talk to your doctor about as some of them carry side effects or can have adverse effects with other medications. As always, be smart and talk with your doctor!
Other -
A final thing that may help some of you guys may come across as somewhat controversial so please note that it is not my purpose or intent to offend anyone or to seem contradicting. When some people look to quit their addiction to opiates, they also look to end their use of all drugs and alcohol, which I think is probably the best route to go. This includes drugs such as tobacco and marijuana. In my opinion, I believe that marijuana is without a doubt a drug and can also serve as a gateway drug meaning that it's use can eventually lead to the user moving on to other harder drugs. However, I think for the most part, marijuana is quite harmless and agree that it is not addicting. It might become a habit but you won't see anyone having chills, cold sweats, extreme anxiety, diarrhea, and the other classic symptoms of opiate withdrawal when they stop using marijuana. As someone who enjoyed smoking marijuana and did so often in the past, I would often use the drug as a way to help control the anxiety that would so often accompany opiate withdrawal. It would sometimes also help me get to sleep which can seem close to impossible during opiate withdrawal. I no longer smoke marijuana due to the rules of the Suboxone program I am now in as well as just trying to make drugs a past part of my life but I still personally have no ill feelings towards the drug. I'll leave this one up to you guys. If you think it may help, give it a shot. However, if you think it might do more harm than good, then by all means stay away from it (and other drugs).
After debating with myself whether or not I should have included the use of marijuana to help with sleep during opiate withdrawal, I came to the conclusion that I want to be able to provide you guys with whatever I think can help you guys without causing any harm or bad consequences. That's why I often write about medications but never recommend dosages or regimes besides telling you guys to talk with your doctor and to never take more than told/recommended. The biggest reason I had debated on whether or not to include marijuana as an option in this post is that for some people, when they use marijuana, the high they get from it brings on too much of a temptation to get back to using the opiates again. Sometimes the high from marijuana is just to much for a person and it can begin to bring out our inner demons with addiction. While I personally believe marijuana can have its benefits, I would have to say that the best route to take is to probably just avoid it along with any other drugs or alcohol.
I also want to state that I defiantly wouldn't advise anyone to use alcohol as a means of getting to sleep. Not only is that an unhealthy and potentially dangerous thing to do, but that alcohol itself can become an addiction. This is especially true for any addict as we tend to develop addictions quicker and easier than most people. In addition, while the use of alcohol may make one feel good and able to get to sleep, it will most likely leave the person feeling even worse the next day. It is already shitty enough having to deal with opiate withdrawals so why add a nasty hangover to the mix. Both alcohol and marijuana can impair the way we think and act, which could result in one making some poor decisions such as deciding to use opiates adding yet another reason to avoid any drugs or alcohol during opiate withdrawal.
I know I might sound somewhat contradicting to some about what I have just said but I just want to add what I found has worked for me in the past. If you asked me what to do in regards to the marijuana, I would say to defiantly stay away from any drugs/alcohol and to only use the marijuana if you feel confident enough it won't have any negative impacts and as a last resort if possible. Remember, the whole point of getting off the opiates is to live a sober life. Like I've said more times than I can count, everyone is different with some people being able to handle things differently or better than others. You shouldn't even consider looking to drugs such as cocaine, heroin, meth, hallucinates, and the like to help ease withdrawals. Believe me, drugs like those will do much more harm than good and can lead you into a whole another world of problems.
Some Other Quick Tips For Finding Sleep
If you can't get to sleep within a half hour or so, don't just stay in bed tossing and turning! Get up and go to a lightly lit room and do something that requires little energy and is relatively boring/dull. Some examples include reading the newspaper or a book, writing in a journal, going for a short walk, ect. You must train your body and mind that your bed is a place for sleep so that when you enter your bed in the future, your mind and body will know it's time for sleep. Or the other thing...
Try to limit television, video games, or exercise right before bed as both can tend to get your mind and body up, focused, and ready to go.
Limit any caffeine, high Carb, or sugary foods at night. Eat right during the day and limit (or even quit if you can) any tobacco products. Too much of these things can keep you up at night.
If you're religious, calm yourself by spending a few minutes saying your prays before bed. If religion isn't your cup of tea, give mediation a shot and try relaxing and meditating for about 15 minutes before bed.
Try to keep your mind occupied on something calming and something you enjoy. Don't worry about your addiction, bills you have to pay, work, or any other things that can get you worked up and worrying while you are in bed at night.
As I mentioned before, make sure to set up a sleep schedule where you wake up and go to bed around the same time each day. Try to limit long naps during the day by either not napping at all or limiting your naps to less than 45 minutes (cat naps). It can be tough for some people (myself included) but try not to sleep in late on weekends or days off from work/school as this can further disrupt your sleeping patterns.
Make your sleeping environment comfortable by having a nice, comfortable bed, a room temperature that's comfortable for you, and keeping noise to a minimal.
If you continue having trouble in getting and staying asleep, don't continue to just put it off! Make a visit to your doctor and discuss with him or her what the two of you think is the best route of action to take in getting some sleep.
Conclusion
Well guys, that's all I got for you and I really hope this post was helpful for you. In my opinion, the lack of sleep that comes with opiate withdrawals is one of the worst symptoms. You end up feeling so tired after not getting any sleep from the night before but still cannot fall asleep the next night, it really sucks. For some people, these methods may work great for while others may have mixed results. I'm sure there's a lot more information out there and I would love to hear some feedback from you guys about this matter. Comment below in the comment section if you have any thoughts, experiences, or recommendations that can help with achieving sleep during opiate withdrawals. I have also put up a new poll which can be found at the bottom of this page and would love to hear what you guys think. I'll end this post by wishing everyone nothing but the best and ask that each and every one of you guys to continue seeing that light! I have also included yet another a link for you guys below this paragraph that has some good information about some of the methods to achieve sleep. Some of the stuff on this website we have talked about already in this post but there is also much more. Here is the link below.
Until next time, take care guys.
-Seeingthelight